KERMAP produces, analyzes and interprets Earth observation data crucial to sustainable land management. These indicators help public and private players contain land take and preserve ecological continuity, healthy forests as well as ecosystemic services identification and inventory.
Land take and soil sealing
The 'No Net Land Take by 2050′ initiative promoted by The European Commission aims at halting soil sealing and preserving biodiversity. Our GIS services help local authorities, urban planners and real estate developers quantify and monitor land-use to meet this ambitious target. This work relies on photointerpretation and/or AI-driven geographic data production, enhanced by expert spatial analysis, to produce extensive, high-precision mapping of land use and dynamics.
Thanks to these innovative techniques, we provide land-planning professionals with the support decision tools they need to implement far-sighted environmental protection policies.

Discover our use cas on the EPA Nice Ecovallée territory
Ecological networks
Our satellite data extraction techniques enable us to produce detailed mapping of green infrastructure in a short amount of time, even on a large scale. These deep-learning solutions are then manually refined through photointerpretation to minutely identify ecological networks woven by bodies of water, wetlands, bocage and other landscapes crucial to biodiversity.
This new kind of geographic documentation is an invaluable asset for public authorities to design environmental protection policies.
Forest management
Our AI models rely on satellite images and airborne LIDAR data to deliver a detailed identification of the tree canopy. The automation of this process helps provide large-scale maps of forest cover and forest strata, key to biomass estimation and carbon capture and storage (CCS) monitoring.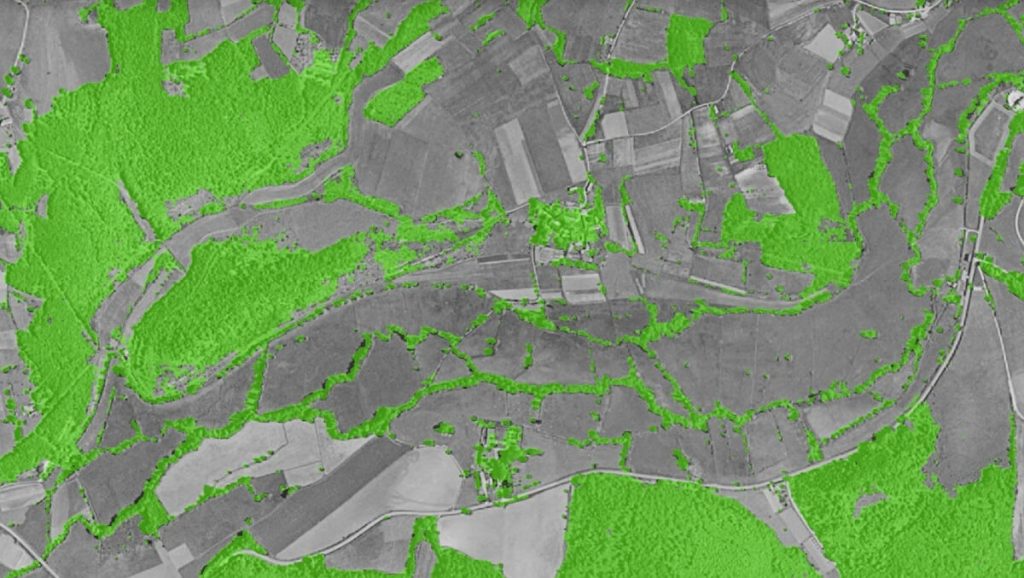 Such information is crucial to sustainable forest management, as many public and private actors strive to invigorate forest health while reconciling it with wood resource utilization. With this concern in mind, the Dordogne département asked us to provide a set of maps to help local communities improve forest management.
Ecosystem services
Cross-referencing earth observation data with environmental indicators enables us to estimate and map ecological services arising from ecosystems and biodiversity. Namely their provisioning, regulating, supporting and cultural services, as defined by the United Nations' Millenary Ecosystem Assessment. Equipped with this knowledge, public authorities can conduct environmental assessments and prioritize actions towards ecosystem preservation, or vegetation and biodiversity restoration.