Kermap combines remote sensing and AI techniques to support sustainable agriculture initiatives, such as regenerative agricutlure relying on soil conservation practices. Our indicators and datavisualization tools facilitate crop monitoring and the quantification of environmental payments.
Improved crop inventory
Our innovative AI models enhance traditional crop inventory from Earth observation data, with gains in accuracy, velocity and scalability. These deep learning techniques for instance proved successful in producing France's thorough crop inventory in 2020, nearly one year ahead of the official "RPG" database. With many more countries to come…
All datasets are aggregated into our mapping platform Nimbo, the one-stop spot for crop monitoring but also for anticipating future farming trends.
Key data for sustainable farming
Vegetation indices, soil moisture, nitrate retention, carbon capture, cover crops… Key data for sustainable agriculture contained in satellite imagery is automatically extracted and analyzed by AI.
Then made easily accessible in our visualization tools : dashboards or cloud platforms, such as our Nimbo service.
Promoting environmental services
You are a public actor, company, farm co-op, or non-profit organization involved in a greening or payment for ecosystemic services programme (PES) ? Our crop monitoring processes provide you with efficient tools to support farming professionals towards the adoption or sustainable agricultural practices.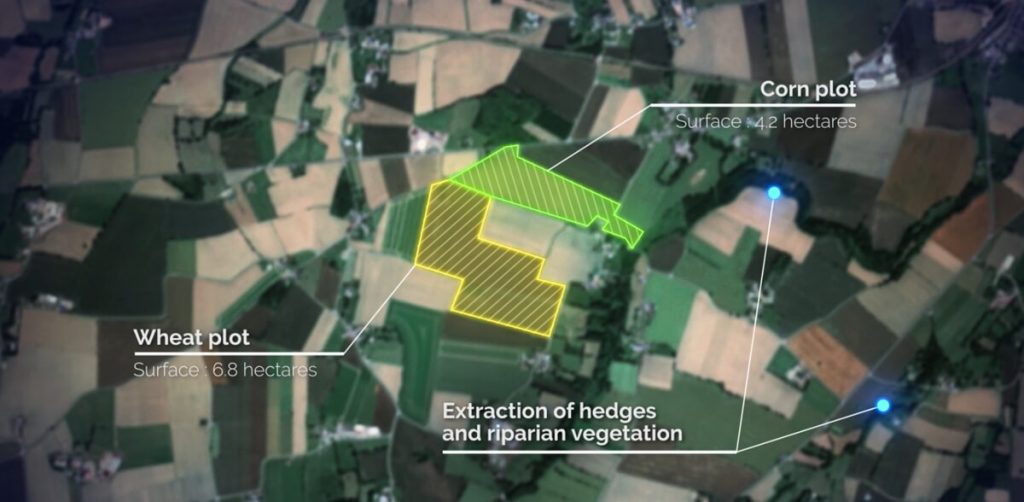 Carbon offset
Objective criteria to calculate carbon offset ? Satelite data have some in store. We provide large-scale monitoring of farming practices towards soil carbon storage, through crop rotation or cover crops among others.
These are essential, reliable indicators for public and private organizations active in carbon standard verification, in their bids to certify projects contributing to the reduction of CO2 emissions.