Kermap contributes to sustainable farming initiatives by providing crop analytics through satellite analysis. We combine expertise in remote sensing and artificial intelligence to deliver quick, large-scale multi-year crop identification. Our indicators and datavisualization tools provide actionable crop monitoring to anticipate on market trends, assess logistics needs, and evaluate environmental incentives for players involved in the transition to sustainable agriculture.
Efficient crop monitoring
Our innovative AI models enhance traditional crop identification using remote sensing, with gains in accuracy, velocity and scalability.
These deep learning techniques for instance proved successful in producing the first map of dominant crops in 2020 at field level, with the corresponding stats on 11 European countries.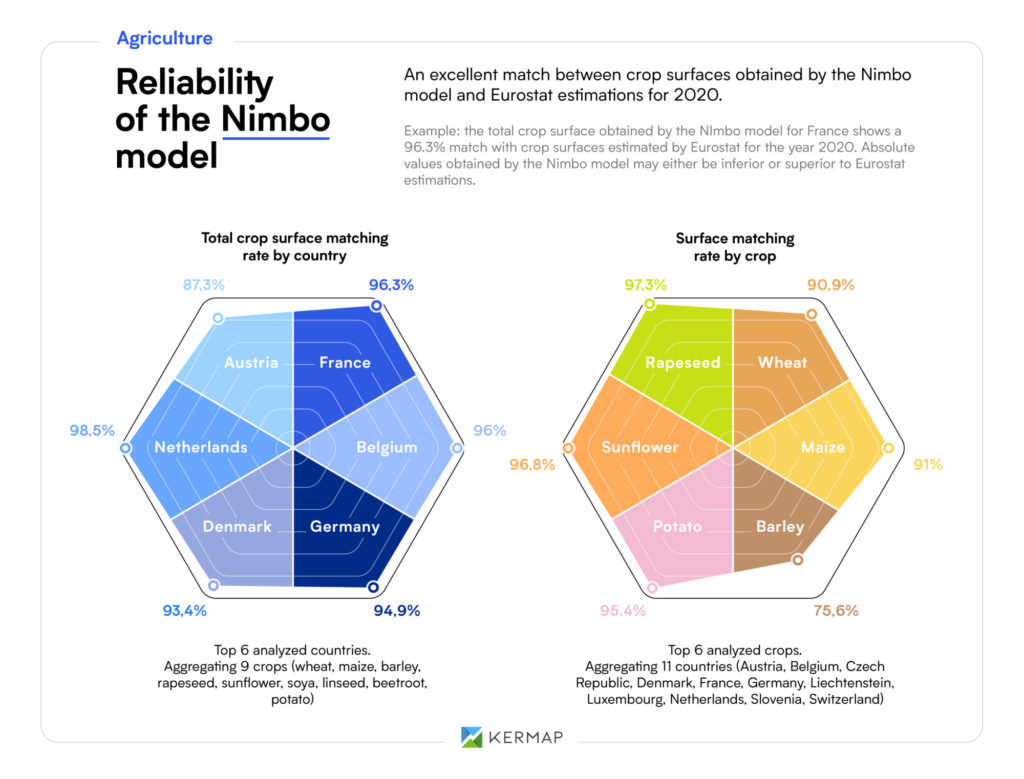 Crop analytics made easy
Thanks to our AI-models, key crop analytics for sustainable agriculture contained in satellite imagery are automatically extracted from remote sensing data.
Crop identification : dominant crop classification, cover crop typology.
Multi-year field analysis : cover rate and duration, heterogeneity, soon to be followed by soil moisture and yield rates
Then made easily accessible in our visualization tools : dashboards or cloud platforms, such as our Nimbo web viewer and APIs.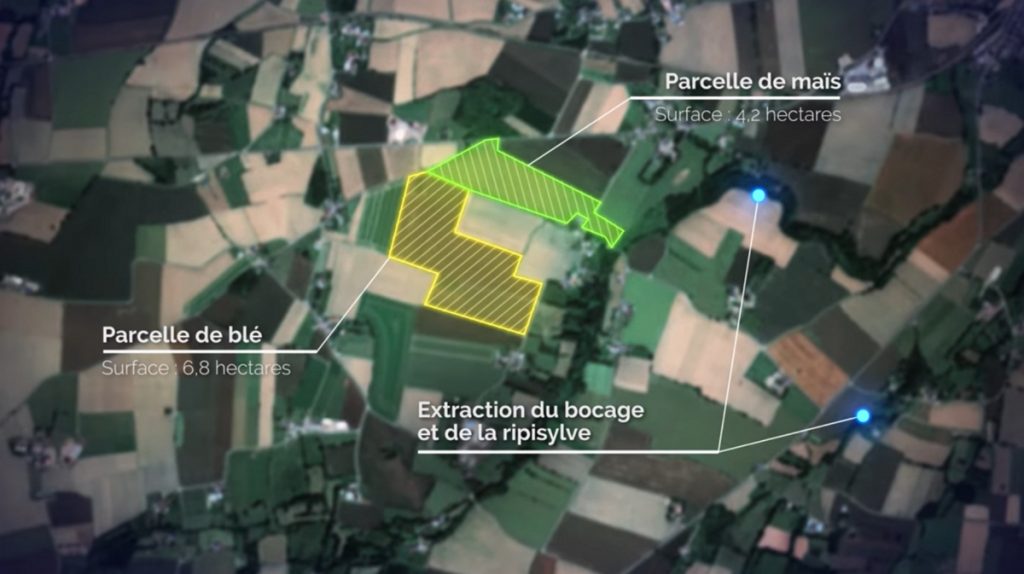 Crop identification for environmental services
You are a public actor, company, farm co-op, or non-profit organization involved in a greening or payment for ecosystemic services programme (PES) ? Our crop monitoring processes provide you with efficient tools and relevant indicators to support farming professionals towards the adoption or sustainable agriculture practices.
Crop analytics produced by Kermap support agroecology initiatives relying on soil conservation – such as EarthWorm Foundation's Sols Vivants programme. Besides, Earth observation data can also contribute to water quality preservation, chemical input limitation or carbon sequestration.
Carbon offset for agriculture
Objective criteria to calculate carbon offset ? Through satellite data, crop analytics have some in store. We provide large-scale monitoring of farming practices fostering soil carbon storage, through the identification of crop rotation or cover crops among others.
These indicators produced by remote-sensing supply key contributions to carbon offset measurement. Players active in the carbon credit field can thus improve the reliability of their initiatives to encourage the reduction of CO2 emissions. One illustration is our collaboration with MyEasyFarm for its MyEasyCarbon solution. This new carbon monitoring application designed for field crop producers uses in-season data sourced by Kermap to automatically document interventions at field level.